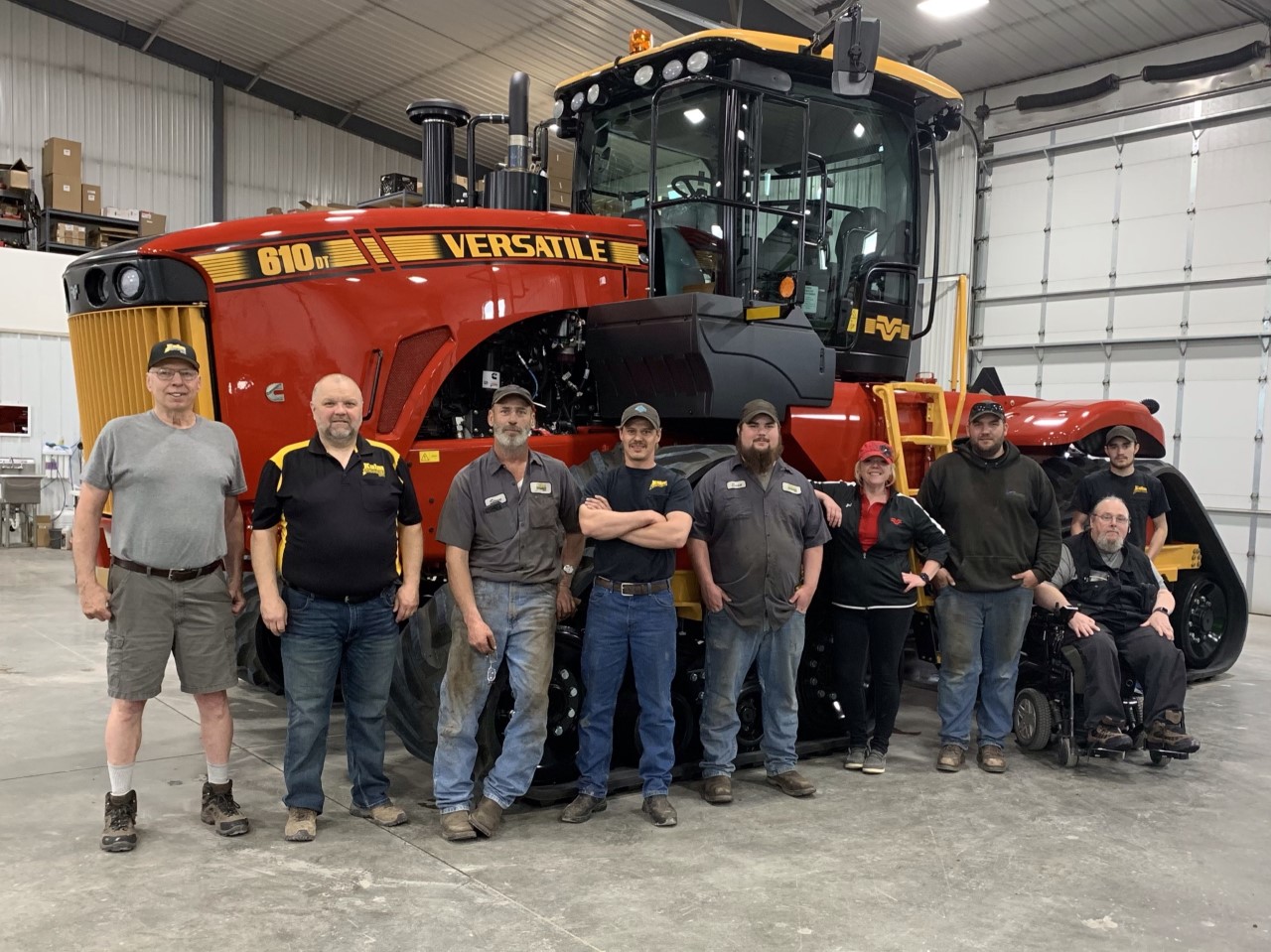 Our Approach
Kulm Service will work on  tractors, combines, all farm equipment, semi trucks and trailers. 
Our Story
Established in 2017 - LOCALLY OWNED AND OPERATED!
See AGWEEK coverage below:
From Agweek June 8, 2019:   After Titan Machinery closed up shop in Kulm, North Dakota, the town took matters into its own hands and started its own, independent farm service business.
KULM, N.D. — A town that lost its Case IH dealer two years ago is now benefiting from an independent farm service business.
Kulm Service started in April 2017 and has replaced a Titan Machinery dealership that was among a dozen announced for closure in February 2017.
"It was a pretty hard hit on ourselves and the community," farmer Neal Berntson says, while discussing the Titan announcement.
Berntson and his farming brother, Lowell, discovered many of the former dealership employees had been Titan posts in other stores, or as service posts, but chose instead to go with the new Kulm Service.
SEE AGWEEK VIDEO from June 8, 2019
The Berntsons had created a start-up business — an independent farm equipment service shop, initially running it out of one of Lowell's farm shops. The new business has been able to retain many of the Titan employees.
The Berntsons hired Ben Pesek (pronounced PESS-ek) as general manager and by November 2017 had constructed an 80-by-120 foot building and office. Pesek bought the company in January 2019 and leases the building from the Berntsons.
The Titan facility stands empty and for sale on the north end of Main Street. Titan offered to sell its former Kulm building headquarters to the Berntsons, but only after the farmers had invested in the new site and the structural steel was arriving.
"It didn't really time out well," Pesek recalls, of the offer, adding, "We were far down the line already."
People business
Pesek, 47, had strong regional ties and relationships in ag equipment and in farming. He grew up in the town of Rogers, N.D., and moved near Spiritwood, N.D. Pesek owned a regional franchise for Snap-on Inc., a tool manufacturer, calling on mechanics in a 75-mile radius of Jamestown. His wife, Sherri, was from the Kulm area and for 12 years ran a child care facility there and now is a substitute teacher.
Kulm Service hired Jeff Gunderson, the former Titan service manager; and several former mechanics. Pesek recently hired Liz Braun as shop coordinator/parts manager.
"I knew the support would be there," Pesek says. The town has a vibrant business community, with local grocery and hardware stores, as well as repair shops and fuel station. In 2014, more than 80% of voters had approved a $5.5 million school bond referendum for a school with 125 students in kindergarten through grade 12.
Kulm Service tried to keep employee compensation roughly at the Titan level. Pesek acknowledges they don't yet offer health care benefits.
"In our original compensation package we included dollars to help offset their costs of health care, and help them get (health care) packages that worked for them," he says. "As far as us paying for any, we haven't crossed that bridge yet."

A smooth start
Pesek was instrumental in the design of the facility, repeating some designs of a building he had built for another business. Mechanics had some input.
One of the beneficial features is a perforated ceiling, which cuts down on the noise and echo in an equipment shop. They also installed a two-piece door on the south. The center swings out so there is a 48-foot free-span made of two overhead doors instead of a bifold door.
"That creates a wide opening so we can get in and out but we don't have to use the whole thing every time we open it," Pesek says. That helps with heat loss, which can make it uncomfortable for mechanics. The building has in-floor heat using a propane boiler.
They don't have air conditioning but can open both ends of the building and can get the air moving with the help of a large, slow ceiling fan, made by Big Ass Fans of Lexington, Ky. In cold weather, the fan keeps the heat circulated back to the floor.

In mid-May , Kulm Service had marked its 300th customer.
Kulm Service has three service trucks. They reach out about 70 miles north and about 40 miles south They travel 50 miles to the west and east 40 miles to the east.
Pesek says Kulm Service labor rates are typically 30 percent less than some of the dealers in the area. In the current low commodity price climate, the cost advantage can help introduce Kulm Service to clients. "When they understand they're getting the same repair that they would get for less money, and get the 'personal' that we're able to put on it, is what I hope keeps them coming back anyhow," Pesek says.
The staff makes itself available on weekends and evenings, focusing on personal connections during time-sensitive cropping seasons.
"Most of the customers are able to speak directly with a technician when they have a problem or a question," Pesek says. "That's kind of frowned on in some shops but in our shop, we want them to be able to talk to the person who's actually working on their stuff."
Pesek says there are some struggles with software, but parts and other information is available from dealers.
Neal Berntson says the business is growing, with a future that seems "pretty unlimited."
Pesek acknowledges there is a "possibility" for expansion. "We'd like to grow." One area of potential expansion is a parts inventory.
"We're looking at some short lines," Pesek acknowledges, referring to equipment that is not manufactured by the large farm equipment manufacturers. He says they could add another technician without adding to the facility. "I don't think there are any doors that are closed," Pesek says. "Anything that comes at us is an opportunity."
Jeff Gunderson, 63, the service manager, says he enjoys hearing about new customers beyond those he'd served at Titan since moving to Kulm with his wife in 1976. They fell in love with the town and stayed.
"I wasn't working for customers, I was working with friends," Gunderson says. In the wake of the closing, he appreciates that Titan offered to allow him to work from home and work remotely via computer. But "the interaction with the farmers would be gone and I would have no interest in that," he says. "Now I'm working with the grandsons of the people I started working for."
Similarly, Braun, the shop coordinator who had worked nine years with Titan as parts manager, wanted to stay in Kulm, even though Titan offered her a position at a store in LaMoure, N.D. She worked in a car parts business, but rejoined her cohorts at Kulm Service. "I like the ag parts," she says
Mechanic Evan Dittus, 24, of Fredonia, N.D., says he enjoys the rapport with the management and customers and does part-time farming with his father and cousins. "Everyone's happy we're here," he says.
Click on a Team Member image below to expand it!